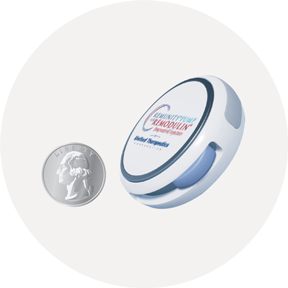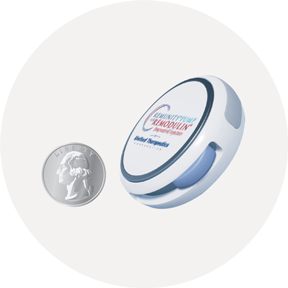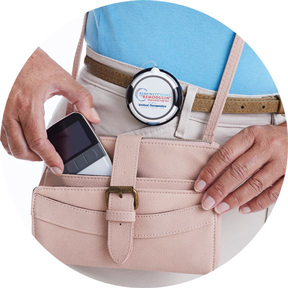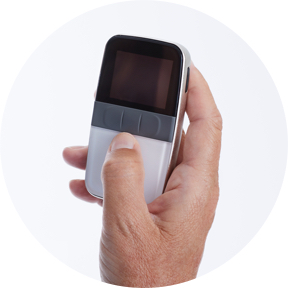 Coming soon: Remunity™ Pump for Remodulin
NEW
A small, simple subcutaneous pump for patients starting or on a stable dose of Remodulin
Small
Remunity is only 2" in diameter, 3/4" thick, and weighs only 1.7 ounces, making it smaller than most smartphones. It easily fits on your belt or in your pocket, and can be programmed using a separate, small remote.
Simple
Prefilled Remodulin cassettes are delivered to you by your Specialty Pharmacy. You can easily connect the cassette to your pump without the need for manual cassette filling or syringes. Each cassette can keep you going for up to 3 days (72 hours).
Safe
Remunity also has a water-resistant casing* so your pump can truly go with you wherever you go.
*The pump can tolerate immersion to depths of up to 8 ft for 30 min and 12 ft for up to 3 min.
Informative video about the benefits of REMUNITY
Remunity Announcement
Learn more about the latest pump offering for Remodulin.
REMUNITY AVAILABILITY
Update on Remunity Availability, February 2020
United Therapeutics and DEKA Research & Development Corp. proudly announce the clearance of the Remunity Pump for Remodulin by the US Food and Drug Administration (FDA). Launch preparations are underway with the anticipated timeline of later this year.
Remunity is a discreet, subcutaneous delivery system designed for adults (age 22 years and greater) with pulmonary arterial hypertension (PAH). The cassettes, which contain enough drug for up to 3 days (72 hours), arrive from the Specialty Pharmacy prefilled, eliminating the need for the patient to mix or fill. Remunity is small, water resistant, and programmed using a wireless remote making it safe and simple to use.
Remunity is the latest advancement from United Therapeutics to improve treatment options for PAH patients.
More information about United Therapeutics, DEKA, and Remunity may be found here.
For Important Safety Information on Remunity, please click here.