Side Effects With Remodulin
The most common side effects seen with either SC or IV Remodulin are headache, diarrhea, nausea, rash, jaw pain, widening of the blood vessels (vasodilatation), and swelling from fluid retention (edema). These are not all the possible side effects of Remodulin.
Before starting therapy, your doctor will explain what side effects are common with Remodulin and offer strategies and recommendations to help manage them. This way, you know what to expect and are prepared if and when a side effect occurs.
You can write down your experiences with side effects and share this information with your healthcare team. Working together, you and your doctor can develop a plan to help manage any side effects that occur with Remodulin.
IV=intravenous; SC=subcutaneous.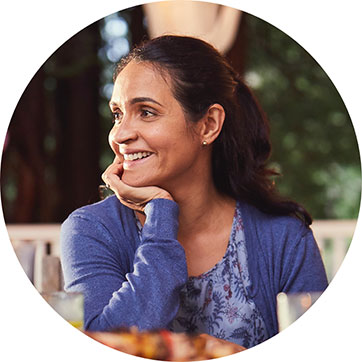 What can I do to help minimize and manage side effects with Remodulin?
Talk with your doctor about potential methods and treatments that may be recommended to help minimize and manage the side effects from Remodulin.
The following are some potential approaches to managing the most common side effects with Remodulin. These approaches should not be construed as medical advice. United Therapeutics does not recommend or endorse using healthcare products other than as directed or prescribed.
Pain
Use of a heating pad, massage, acupuncture, or relaxation techniques
Medicines to help manage pain (prescription or nonprescription)
Topical treatments
Headache
Prescription or nonprescription treatments
Dizziness
Make sure you are hydrated
Monitor your blood pressure
Diarrhea
Anti-diarrhea medication
Changes to your diet (ie, increase fiber)
Nausea
Anti-nausea medication
Eat smaller, more frequent meals
Consume ginger-based products, like

ginger ale
Jaw Pain
Take slow bites of food or sips of water
Suck on hard candy
Chew gum before eating
Site pain with subcutaneous (SC) pumps
If you are on SC Remodulin, it is common to experience infusion site pain and infusion site reactions, such as abnormal redness of the skin, swelling, pain, or rash. Having a plan in place to manage any side effect that occurs is crucial to make sure you get the most from treatment with Remodulin.
Because every patient is different, your experience with site discomfort may vary. In small studies, infusion site pain was shown to be most intense around 2 to 5 days after a site change and to lessen about a week or sooner after a site change in some patients. Although your dose of Remodulin may increase over time, these dose increases are not associated with an increase in infusion site pain.
Remember to talk with your doctor about any discomfort or reaction you may have. He or she can recommend ways to help reduce site pain, such as:
Minimizing the frequency of infusion site changes
Changing your infusion site—unmanageable site pain, itching, redness, or bleeding may be a sign that it's time to change your infusion site
Over-the-counter or prescription medicines
Ice, warm bath with Epsom salts, or aloe vera gel
When it is getting near the time to change your infusion site, create a dry site (one that is not connected to your pump). You can do this by inserting a new infusion set in a different location from your current site and waiting at least 24 hours before switching the pump to the new site
Tips for choosing the best infusion sites
In case of continued discomfort, speak to your doctor about starting a new site.
Commonly recommended good sites include:
Backs of the upper arms
Stomach
Hip area
Upper buttocks
Thighs
You should avoid sensitive areas, including:
Stretch marks
Scar tissue
Under the waistband of clothing
Bruises
Folds of the belly
Although site pain is common, 93% of patients stayed on Remodulin in clinical studies.
How to help manage infusion site pain
Patients and healthcare professionals talk about site pain with Remodulin SC and ways to help manage it.
How to Deal: Remodulin (treprostinil) Injection SC Site Pain
What should I do if I experience side effects with Remodulin?
You should always talk to your doctor first about what to do if you experience any side effects.
Seek medical attention if you experience signs or symptoms of abrupt withdrawal of therapy or Remodulin overdose.
United Therapeutics does not provide medical advice
Your doctor is the best source of information about your treatment and side effect management and will offer strategies based on your unique medical needs.